About Us
In 1972, Bud and Marcia Myers along with their three children Philip, Gwen, and Kathy moved here into an old farmhouse on 34 acres within the Hocking Hills, along Bear Run Road in Logan, Ohio. Bud had grown up on a farm down the road about three miles from here. He and Marcia thought this would make the perfect little place to raise a family, garden, and animals here in the United States. They had just returned from the Philippines on a five year Lutheran Mission. The farmhouse had no running water, electricity, or indoor plumbing. Bud and Marcia spent a couple of years starting their dream remodeling job before returning to the Philippines for three more years.
After returning from overseas for good, years passed and things changed. More years passed and even more things changed. The Myers household was always in a state of remodeling. Bud and Marcia performed all their own construction. As the children became older, sometimes they were of help. Various farm animals came and went. We had everything from dogs, cats, chickens, pigs, horses, cows, and rabbits.
Throughout the 1980's Bud & Marcia purchased additional land. Then in 1992, Bud and Marcia decided they had missed the lifestyle of a revolving door (Their house in the Philippines was always full of passerby's, from visiting Missionaries and Peace Corps volunteers to the homeless, sick and injured.) They decided to start a Bed & Breakfast. After a few more changes with Bud's construction, Marcia's breakfasts, and daughter Gwen' s landscape designing, they started the Bear Run Inn Bed & Breakfast.
The Goldilocks Cottage was added shortly after. The children were able to acquire property adjoining Bud & Marcia's and eventually moving back on the farm with their own children. Gwen and her husband Mike, built the Bear's Den Lodge and Bear's Den Cottage in the woods down the road. In 1999, Bud, Marcia, Philip and his wife Tonya added the Red Oak Cabin and Sugar Maple Cabin.
Since then, we have added the Aspen Cabin and Redbud Cabin.
In August 2019, Phil and Tonya retired from the lodging business to pursue more time with their own children. Bud and Marcia' granddaughter, Kirstie has stepped up to manage the business moving forward.
We have always maintained a desire to keep the green-space around us as natural as possible. As we move further into the 21st century it will even be more difficult, and we, the Myers Family, along with our helpful family and friends, want you to feel at home and truly get the opportunity to experience and appreciate nature as it was meant to be!
Sincerely,
The Myers Family
Our Green Commitment
For several generations, the Myers family has been aware of the need to care about our Earth and her inhabitants, along with the diversity of plants and animals.
Carl and Ruth Myers raised their 11 children within the Hocking Hills, along Bremen Road in Logan, Ohio during and after the Great Depression with an understanding of sustainability. With the exception of a few items, most of their food was grown and raised on the family farm.
This large family shared a relatively small farmhouse growing up with the surrounding outdoors as an extension of their home.
One of their sons, Bud, a young Lutheran Minister, went on to share his love of agriculture in the underdeveloped country of the Philippines.
Bud, along with his wife Marcia, a native Nebraskan farm girl, raised their 3 children in this third world country.
With an emphasis in swine production, Bud's main goal was to get the outlying villages to be able to provide themselves with a self sustainable food source.
This included making feed with dried fish from the ocean as opposed to purchasing expensive feed additives from larger cities and building pig pens out of scrap metal from the salvage yards of the American military bases.
All that he asked from each village was for them to provide offspring to the next village in order that the sustainability continue.
Although Bud thoroughly enjoyed sharing his knowledge of agriculture to the local inhabitants, this Myers family was given something very special in return; the gift of learning to not be wasteful.
In a country of extreme poverty, we were surrounded daily of examples of ingenuity, repurposing, and recycling of almost anything imaginable. Although this might not be foreign to Bud, who grew up as a country boy in a large family with meager income, his children certainly were impressionable and returned back to the United States with a better understanding of themselves and of the entire world.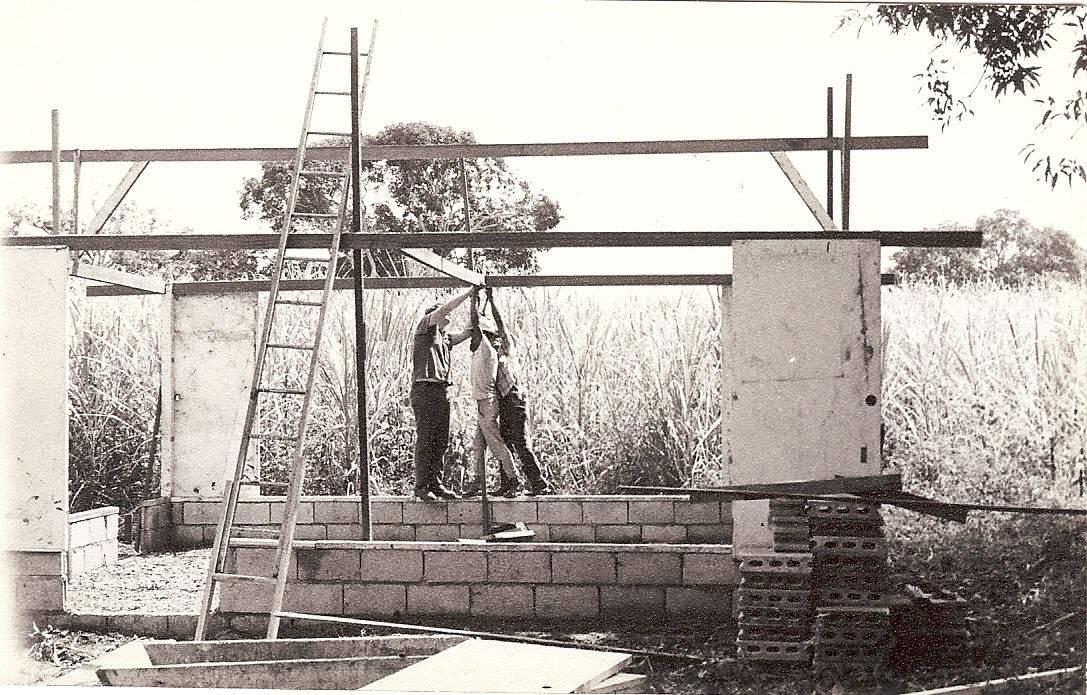 Today, we as a family attempt to do our part in preserving a piece of the natural world around us. We spend a substantial portion of our lodging revenues on mortgage payments for property which now reaches 600 contiguous acres. Our family's lives are inseparable from our business lives as they both operate simultaneously. As a 21st century business, we strive to find a workable balance along with low volume development, to provide a great place for guests to stay and enjoy, to provide employment, and to preserve nature for the future.
The Bear Run Inn, was "recycled" from an old dilapidated farm house, part of which was a hand hewn log cabin built in the mid 1800's. In addition, all but one of our cabins were built on sites that already had home structures upon them at one time.
For family farmers in rural America, recycling has been more than taking cans and plastic to the recycle center. For years, we have reused countless items in countless ways. Some of the biggest examples have been reusing construction materials such as lumber. Throughout the years, after demolishing a structure, we often would salvage lumber and reuse it on the farm.
Although we have offered horse drawn hay and buggy rides for several years, we find ourselves using our horses for more day to day operations, which help reduce carbon emissions and use less oil, not to mention feed is cheaper than $4.00/gallon gasoline. The horses also get more opportunities for exercise.
In addition to the green commitment to ourselves, we are committed to protecting the natural and built environment in the Hocking Hills region for the enjoyment of the citizens and guests of the region through education, communication, and resource management. Furthermore, we invite all of our guests to join us in this effort. Thank you.